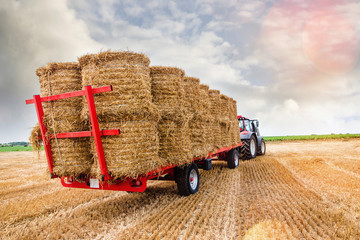 Hay producers can face many challenges over the course of the manufacturing process. Cutting, drying, bailing, and storing hay efficiently can be an arduous process even without situations that could create difficulties such as bad weather, mistiming, and the potential need to sacrifice quantity for quality. The challenges that hay farming can present have necessitated that manufacturers create new innovations and optimize old equipment with each season. These advancements in technology vastly improve processes for hay manufacturers, allowing them to increase their production of hay bales without neglecting important work in between. Here, All Hay discusses some of the ways that technological advancements are having an impact on hay production in the present.
Machine Innovations Save Time and Manpower
Hay manufacturers have long since been developing ways to eliminate extra labor where possible, citing that combining processes such as raking and bailing can keep product from being wet by rain. For example, innovations such as the Flex Rake build upon existing tools. The Flex Rake specifically is modified for use between a baler and tractor, which eliminates the need for manufacturers to have a second operator and tractor.
In the present, there has been a growing interest in newer and more efficient products that increase manufacturers' ability to produce hay bales. Square balers are consistently improving their capacity, swathers are being designed to cut faster and lay windrows that are quicker to dry, and technology that takes some of the difficulty out of the demanding process hay farming is being developed. A big advancement in precision planting has been technology such as Vermeer's self-propelled baler. The machine is driven by hydraulic motors, which speeds up the net wrapping process by a notable margin. Zero-turn capabilities allow the machinery to move more quickly, and on-board cameras allow the operators to view bale formations without needing to rely on physically looking back. Self-propelled balers can also make baling faster, baling fields about one and a half times quicker than the traditional method.
Digital Technology Integration Assists with Manufacturing
Digital technology in farming is not entirely new, as developments have been made for years to assist with the process of creating hay bales and other goals. Technological advancements allow farmers to improve their yields while monitoring and conserving their resources, identify areas of fields that require their attention, categorize and collect data, and more. Taking some of the capacity for human error out of hay manufacturing gives producers the opportunity to focus on things that require their immediate attention, improving their ability to produce top of the line product and keep hay prices consistent. The emphasis that 2020 put on digital solutions means that it is likely that the hay industry and other sectors of farming will see a more widespread commitment to these innovations in coming years. This means that farmers will have even more options for implementing technological assistance to improve their yields.
Institutions Use Technology for Educating Hay Growers
One of the benefits of technology is that it can be utilized for educational processes, even for industries such as hay manufacturing. Recognizing that the market for good hay can outstrip supply, leading to consistent hay prices, farmers of other crops have considered learning about growing hay. For example, livestock farmers may have an interest in growing crops such as orchard grass hay for feed. Institutions with a focus on agriculture have proven to be an excellent resource for prospective hay farmers that are looking to learn specific details about the process.
In one example, Michigan State University Extension developed an online school, Hay Production 101, to help farmers learn more about the process of growing hay. The Zoom class was taught in March and educated newcomers and existing hay farmers on topics such as economics and marketing, what species and varieties to grow, soil management, field establishment and renovation, as well as other crucial facets of hay production. While farming classes have existed for quite some time, use of online classes for helping people grow their understanding of hay farming can extend the reach of education for prospective farmers. These classes can teach farmers about the multiple varieties of hay such alfalfa, timothy, Bermuda, and orchard grass hay, as well as the best ways to care for each crop.